Description
Low weight, high packability and raw power. That is what signifies Nordic Pocket Saw and makes it an essential companion for your outdoor adventures. The chain is made from heat treated high carbon steel which is ideal for blades and specially developed for resilience under harsh conditions. The Premium Edition have the handles and case hand made in Sweden and the leather is 100 % Swedish and Organic.
Case: 100 % Swedish organic certified leather
Case weight: 84 g (2,9 oz)
Case Dimensions: 11,5 x 10 x 4,2 cm (4,5 x 3,9 x 1,7 in)
Chain: Heat treated high carbon steel
Chain length: 65 cm (25.6 in)
Chain weight: 145 g (5,1 oz)
Number of links with cutter teeth: 33
Handles: 100 % Swedish organic certified leather
The art of using leather is one of man´s earliest and most useful discoveries. Our ancestors used leather to sew clothes, tents and shoes in order to protect themselves from natural elements. Craftsmen have mastered the art of tannery for thousands of years and yet today a few traditional tanneries are still using the same organic technique. We have chosen Tärnsjö Tannery as our leather supplier since they offer hides from local Swedish farmers and since their production is 100% organic.
Leather is a heterogenic material since it is made of natural resources from our fauna. It is common with slightly differences in tints and appearance since no hides is alike.
Leather is a natural material and therefore require extra care in order to maintain its characteristics and appearance in the longer run. We recommend our users to treat the leather with leather balm every now and then to reduce the risk of dry cracks. You should also have in mind that exposure in direct sunlight might bleach dark leathers and that chemicals and detergents may damage the leather or tarnish the colour.
When treating your Premium saw correctly you will extend its lifetime and it will age gracefully, developing a beautiful patina with use over time.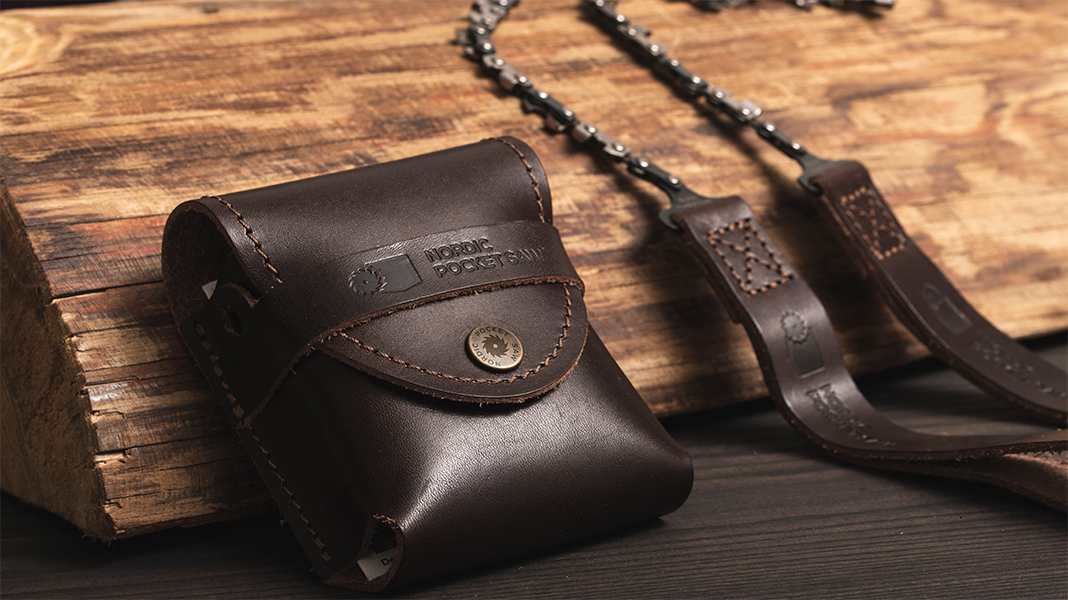 When using Nordic Pocket Saw Premium there is a likelihood of stretching the handles. This is considered to be normal since leather is a natural material and will not be accepted as an argument in possible complaints. However, any potential faults related to production will be covered by the warranty.
Differences in tint and appearance is normal when it comes to leather. The character of the leather is shaped during the life time of the cattle and nuances may occur from barbed wire or from other natural incidents.